Pen Store's Advent Calendar 2021


Pen Store's Advent Calendar 2021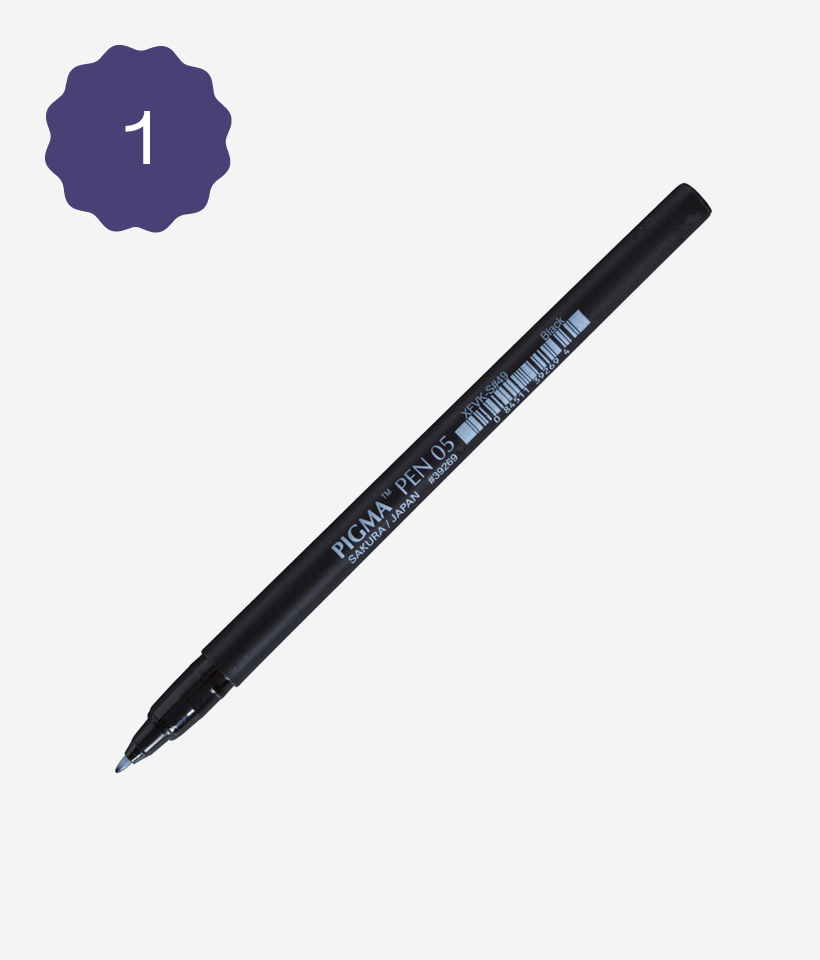 Sakura Pigma Pen
Hiding behind the very first door is this favorite among artists, writers and illustrators. Pigma Pen has a durable plastic nib that will last as long as there is ink inside the pen. The deep black ink is light resistant and will not fade. Pigma Pen can be used in many different ways. Maybe you want to try something new, such as zentangle, stippling or line art?

Buy now →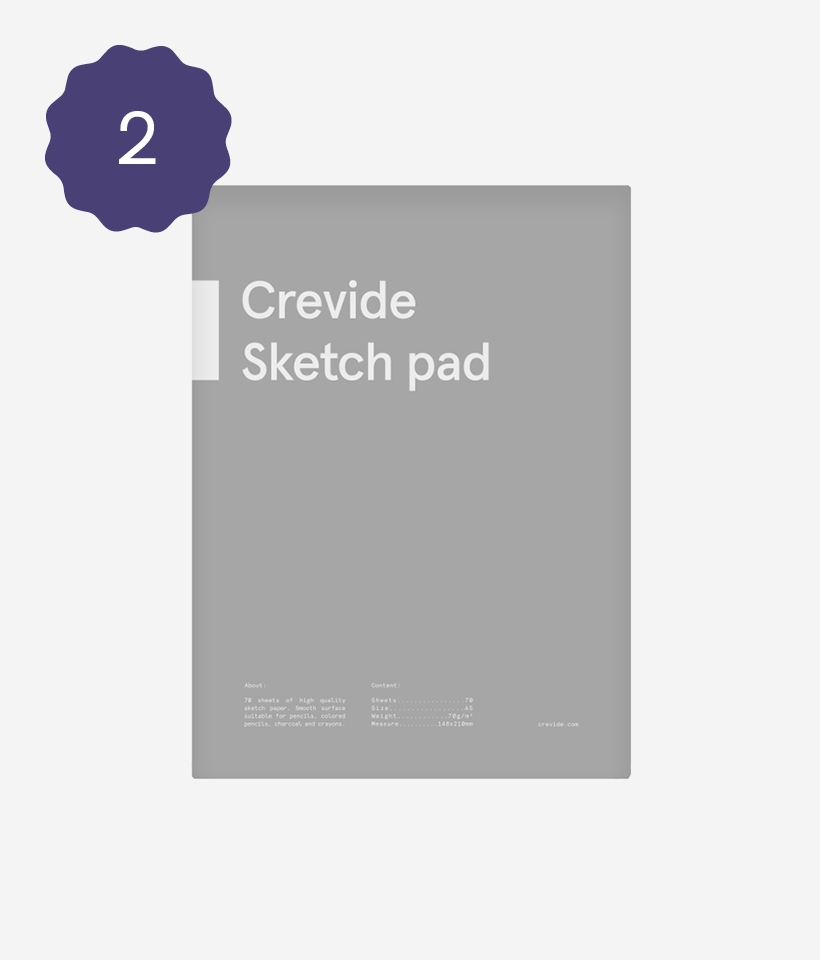 Crevide
Sketch pad
In door number two you will find a sketch pad from Crevide. Many great works of art grew out of a sketch, and sketching in particular is important for your ideas to flourish. On this high quality, smooth paper you will be able to draw friction free with a fineliner, pencil, brush pen, or write smoothly with a rollerball or gel pen. The paper weight is 70 grams, which is pretty thin – an advantage if you want to trace or transfer your ideas onto another paper when the sketches are finished. You can also use it as it is and finish your pieces on the same paper.

Buy now →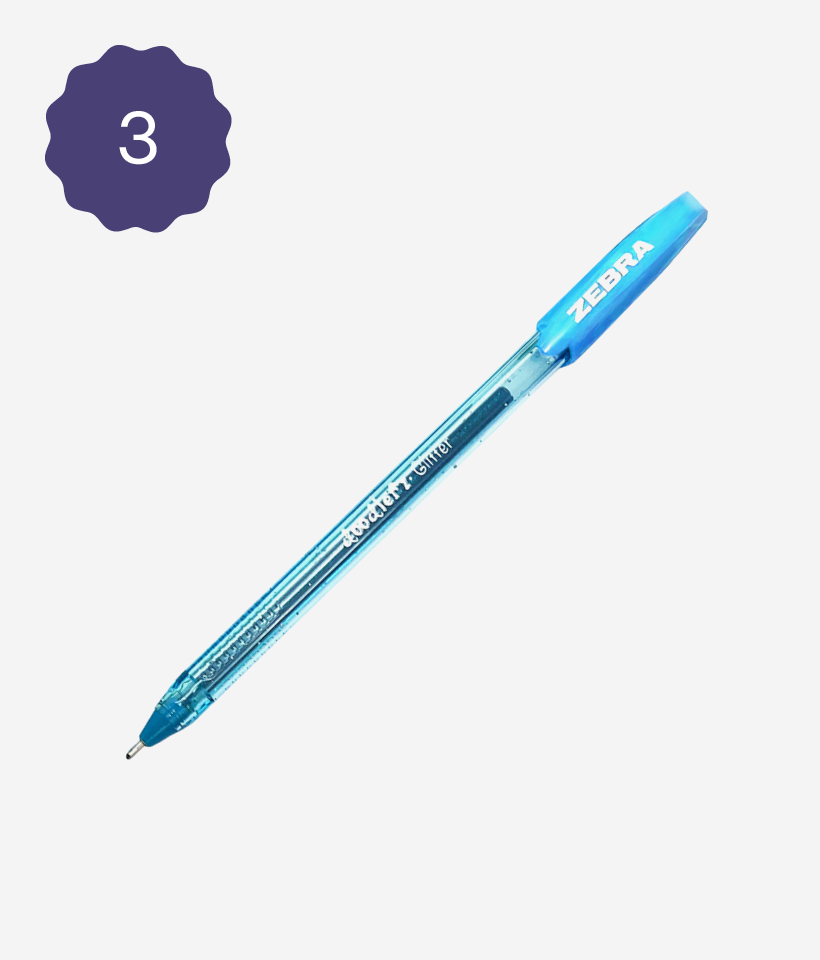 Zebra Doodlerz
Today you will be able to make everything sparke with this gel pen from Zebra. With a small tip of 1 mm you can add shimmering details on all your notes or in your notebook. The best part is that it is very distinct on dark surfaces, so if you make a card or draw on black paper you will not have to worry about it not showing. Thanks to the gel ink you will also experience a nice, smooth feeling when writing.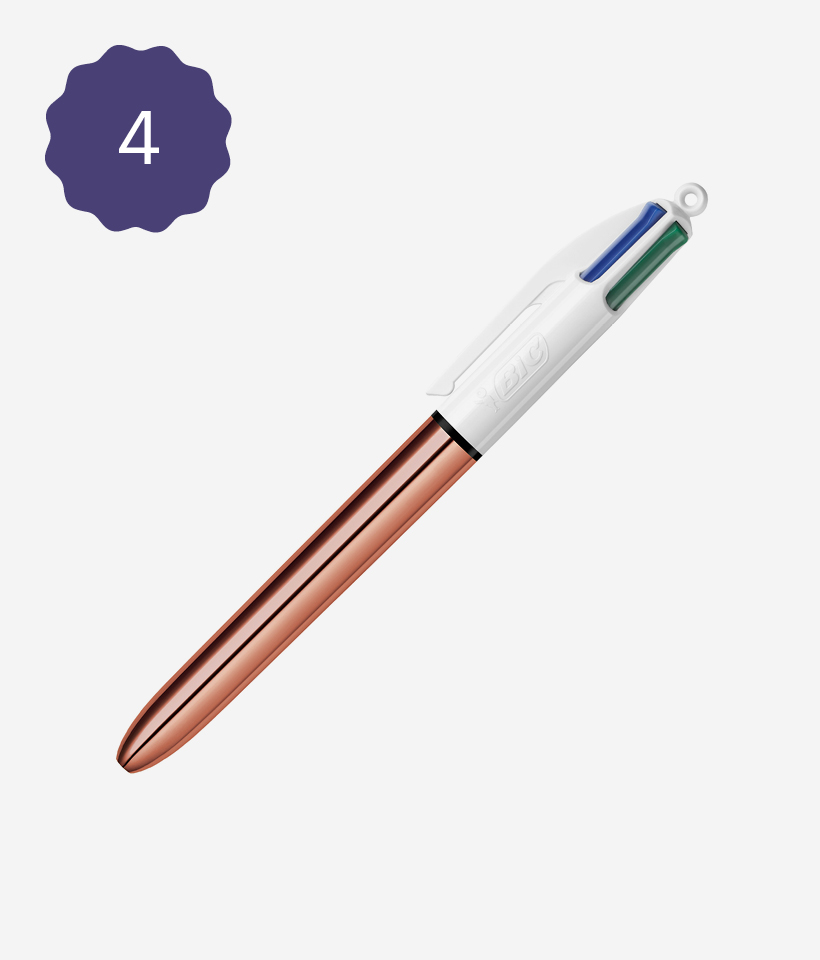 BIC 4 Colours Multi Pen
The classic multipen from BIC, in an extra shiny and lovely colour. One single pen that writes in four different colours! Use it for notes, writing or maybe for underlining important sentences in a text. All you need to do is press down the colour that you want to use, and you can easily and quickly change to another colour. The writing length is 8000 meters, so the ink will last for a long time.

Buy now →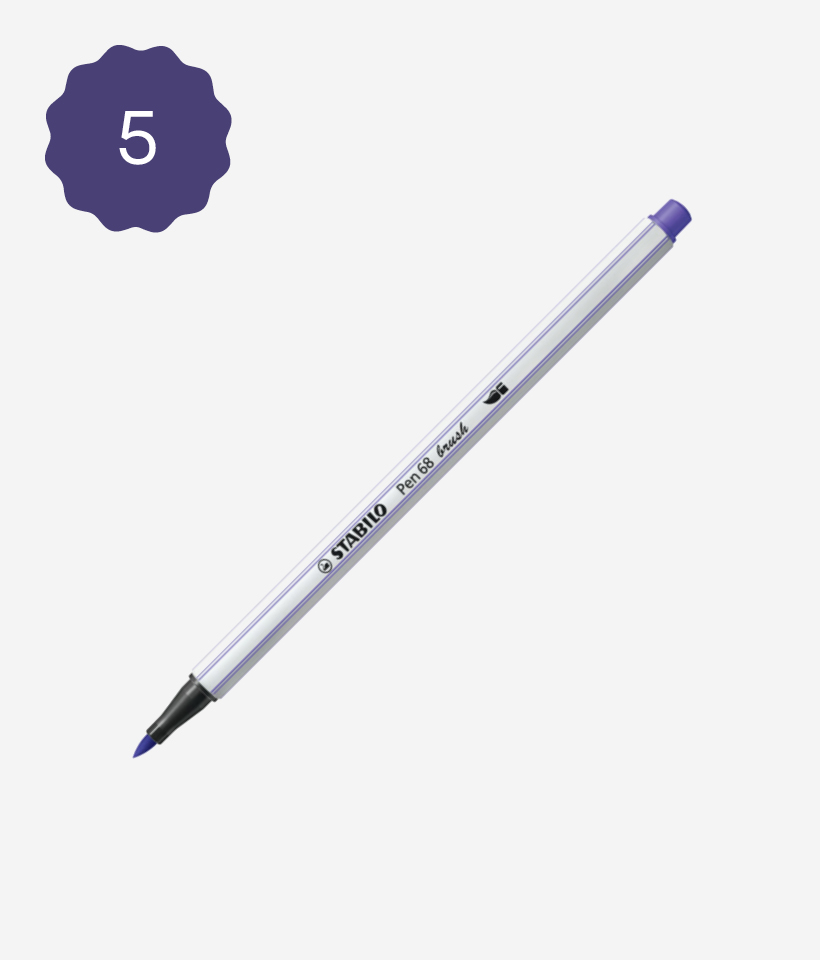 Stabilo Pen 68 Brush
Behind today's door: The flexible tip enables you to vary your lines and is perfect for brush lettering, manga, comic, and hobby artists. These brush pens are extra easy to use – the tip was especially developed for beginners. They can be used in your Bullet Journal or notebook, thanks to the waterbased ink they will not bleed. You can also combine the ink with water and create cool watercolor effects.

Buy now →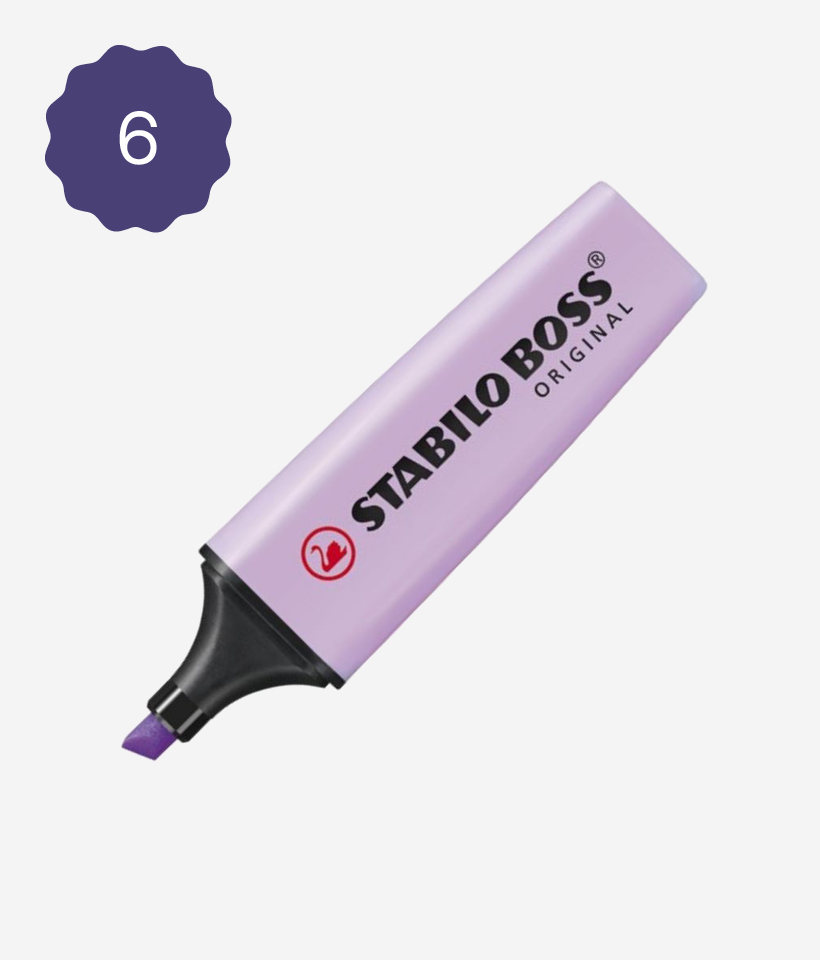 Stabilo

Boss
Is there something more satisfying than having structured notes? With Boss Pastel you can decorate the pages with soft pastel colours and highlight what you need to remember. The pen can also be used for DIY projects, Bullet journaling and lettering. Thanks to the 4 hour cap-off time you will be able to highlight for hours without having to put on the cap all the time. Boss is the most sold highlighter in Europe – a clear favorite among many.

Buy now →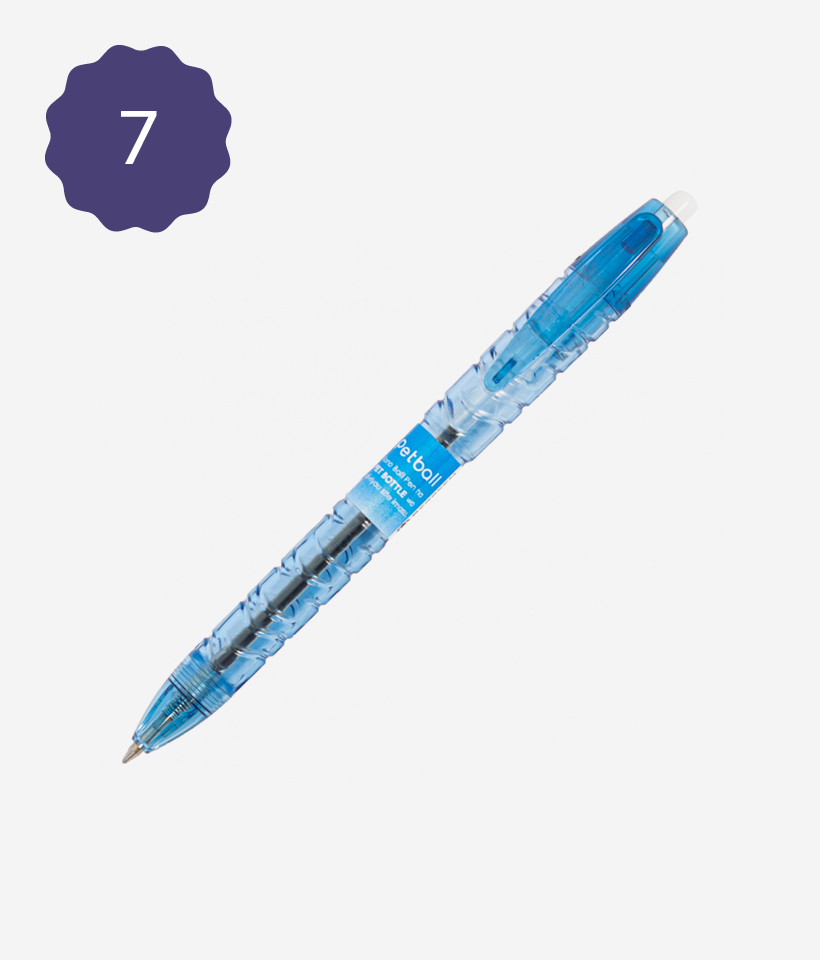 Pilot Petball
This winter's day you will find a pen with a unique look in your calendar. This ballpoint pen is from Pilot's range Begreen, and made from recycled PET bottles, which is also reflected in the design. Begreen is Pilot's environmentally friendly range of pens. Thanks to the pen's ink it feels smooth to write with, and when the ink runs out it is easy to replace the refill (RFNS-GG-F) that is inside. Petball is great for notes, maybe you can use it for your journaling or scribbling?

Buy now →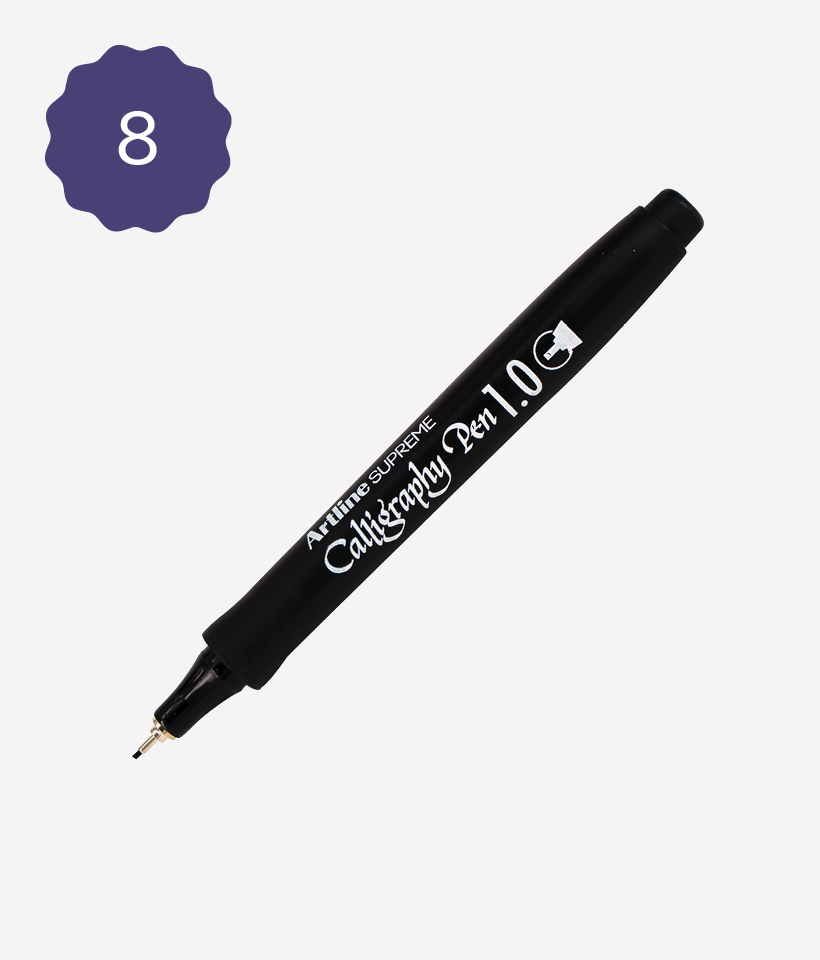 Artline Supreme Calligraphy Pen
Maybe it is time to learn how to write even nicer with this black calligraphy pen from Artline. The flat tip is suitable for calligraphy and lettering, but can also be used for sketching and drawing. You can vary the line width by angling the pen in different ways. It is also comfortable to hold because it is a bit thicker than other pens. And who doesn't love a pen with a comfortable grip? Start trying it out and find the way you want to use Supreme Calligraphy pen!

Buy now →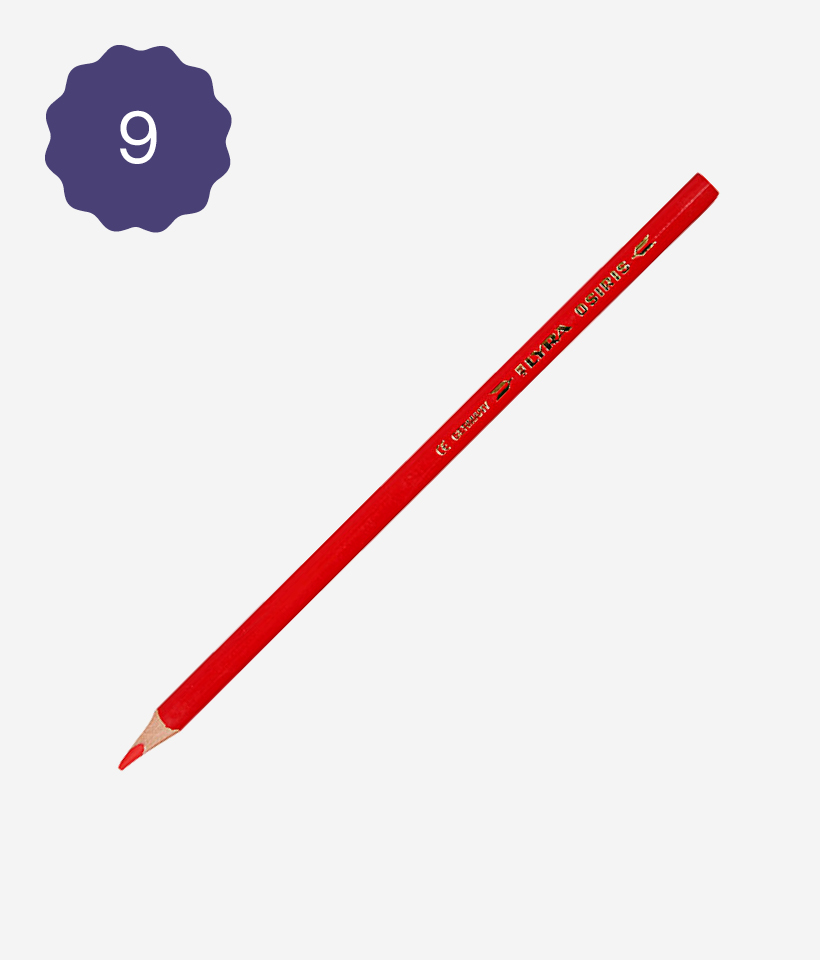 Lyra
Osiris coloured pencil
This triangular coloured pencil is a favorite among both kids and adults. Thanks to high pigmentation you will get a colourful result every time. This red shade is perfect for Christmas crafting and card making. Maybe you can use it for writing greetings or drawing Santa? Together with Point 88 from door 5 you can create black contours and then colour in with Osiris. You can draw for hours with this comfortable grip.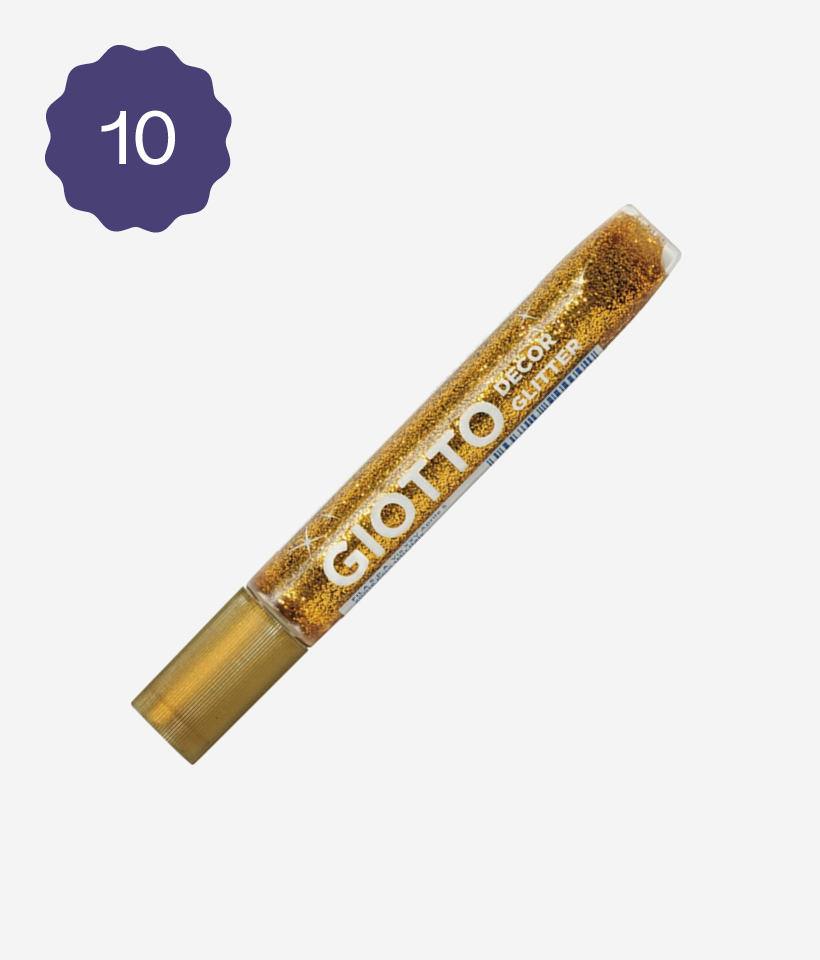 Giotto glitter glue
Create something sparkling with this glitter glue from Giotto. Just like yesterday's pen this is something you can use to decorate christmas cards, or maybe gift tags. Glitter really perks up any dull, cold winter's day. This glitter glue can be used just like an ordinary pen, because the tip is pretty thin. Choose yourself if you want to make small details or fill in larger areas. The glue is water-based and free from solvents.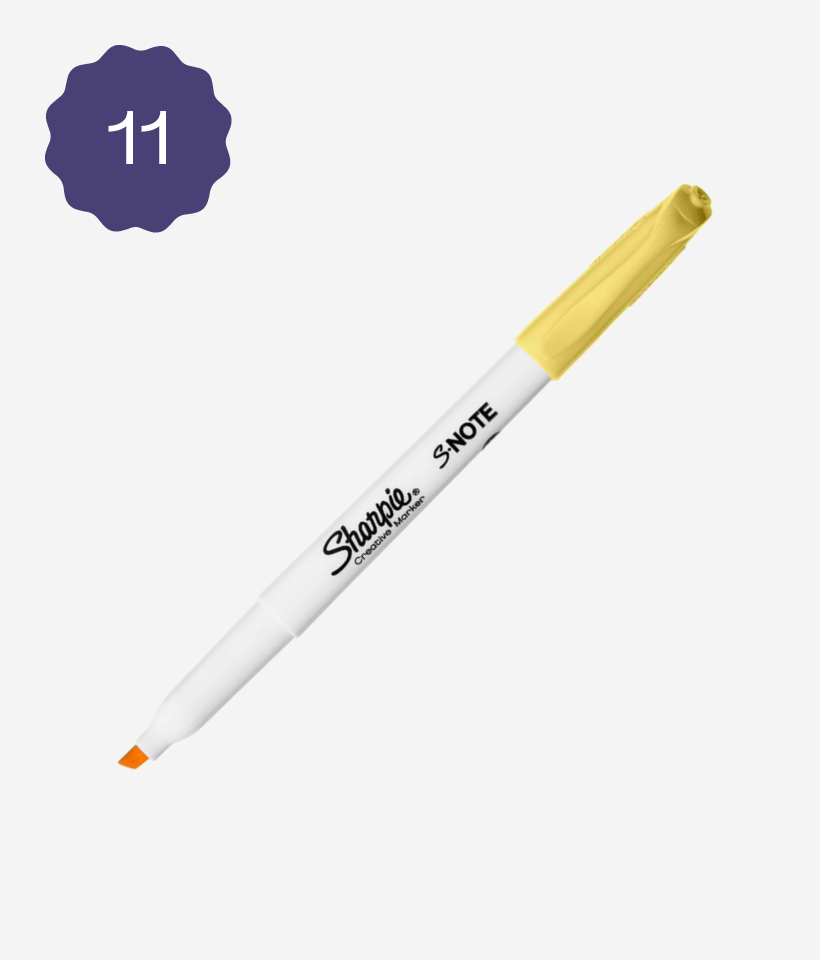 Sharpie S-note
In the eleventh door you will find the felt-tip pen S-note from Sharpie. Sharpie is an iconic brand whose name has almost become synonymous with markers. S-note on the other hand is created for all creative souls out there, and a bit more versatile than their classic marker – perfect for creative projects! The tip is smartly designed for you to use it for both details but also wider lines, depending on how you angle it. Bleedfree ink also means that it will not bleed through paper.

Buy now →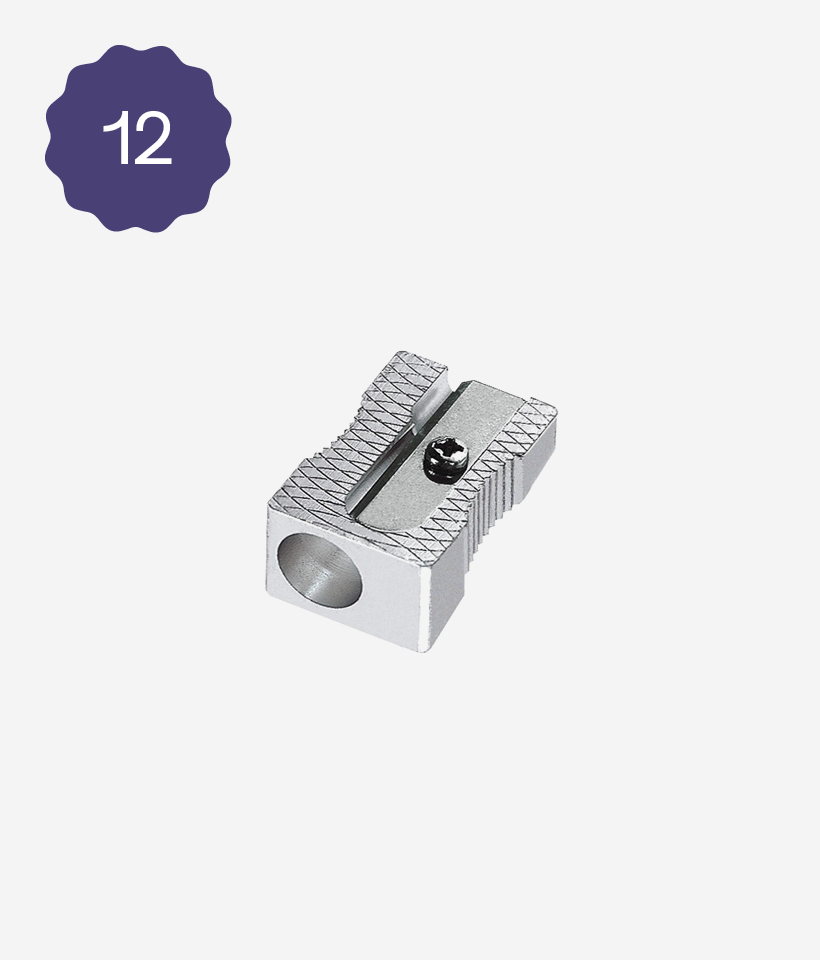 M+R Sharpner
An advent calendar with pens and supplies is not complete without a sharpener. This high quality sharpener from M+R is completely made of metal. Thanks to the sharp blades it is both easy and comfortable to use. Last but not least it is also very stylish, and will be a nice detail in your pen case. The hole fits pencils in standard size, 8.2 mm.

Buy now →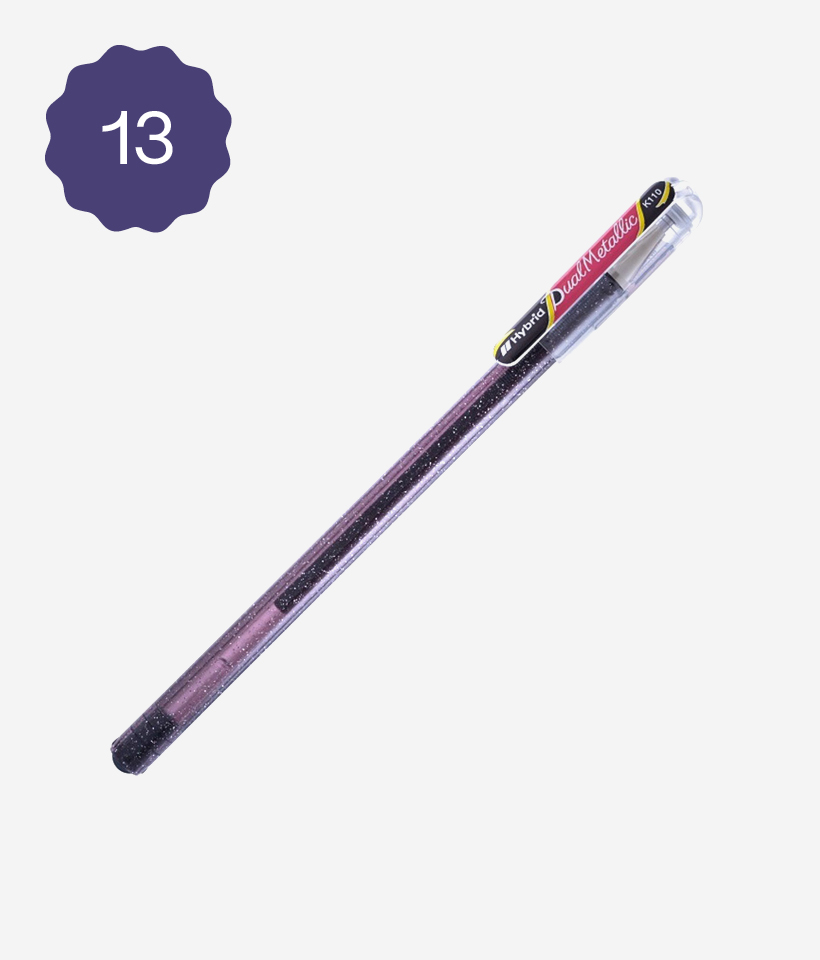 Dual Hybrid Gel Pen
A fascinating favorite here at Pen Store is this hybrid gel pen that writes in two colours simultaneously. Your writing or drawings will definitely leave you enthusiastic. The ink that will flow out of the tip has a metallic shimmer and the two colours do not mix. You will see clearly how the colours shift after finishing writing. This pen is perfect for scrapbooking and card making, or whatever you want to brighten with some glitter.

Buy now →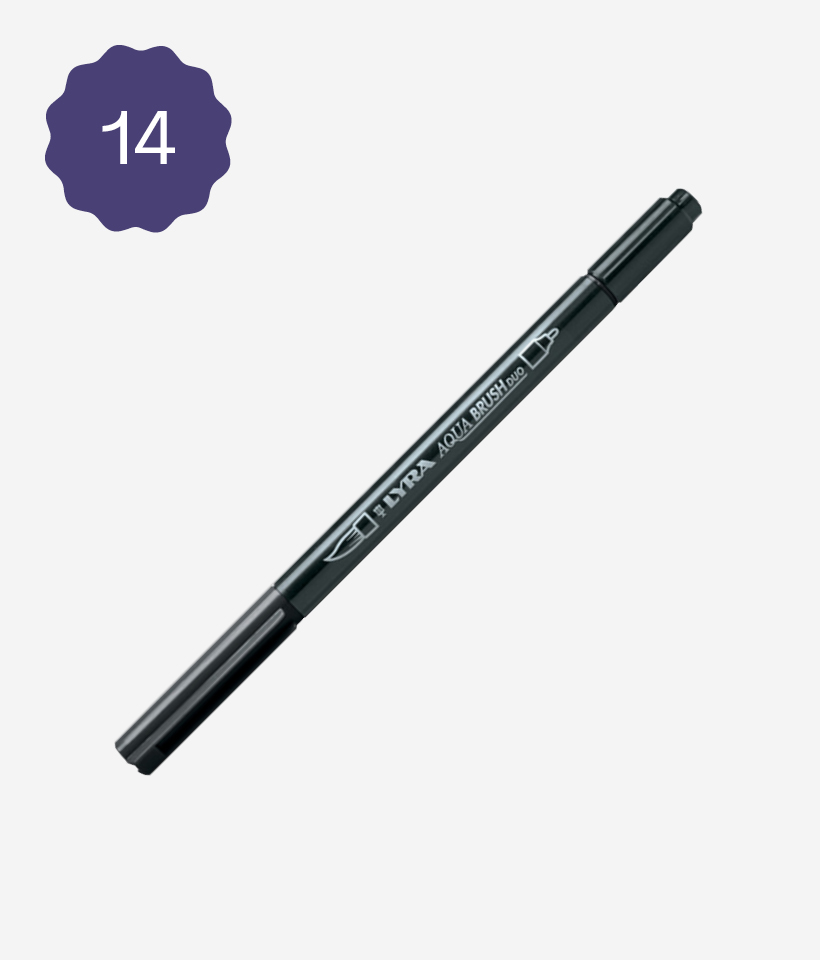 Lyra Aqua Brush Duo 
Lyra Aqua Brush Duo has two tips, which makes it a versatile pen to use. With the thin, sturdy tip you can draw details and contours, and with the flexible brush nib you can draw varying lines or colour larger areas in your drawing. The ink is water-based, so feel free to try it out with some water and a brush. If you paint with the pen on a piece of plastic you can use it as a palette and create nice watercolour effects on paper.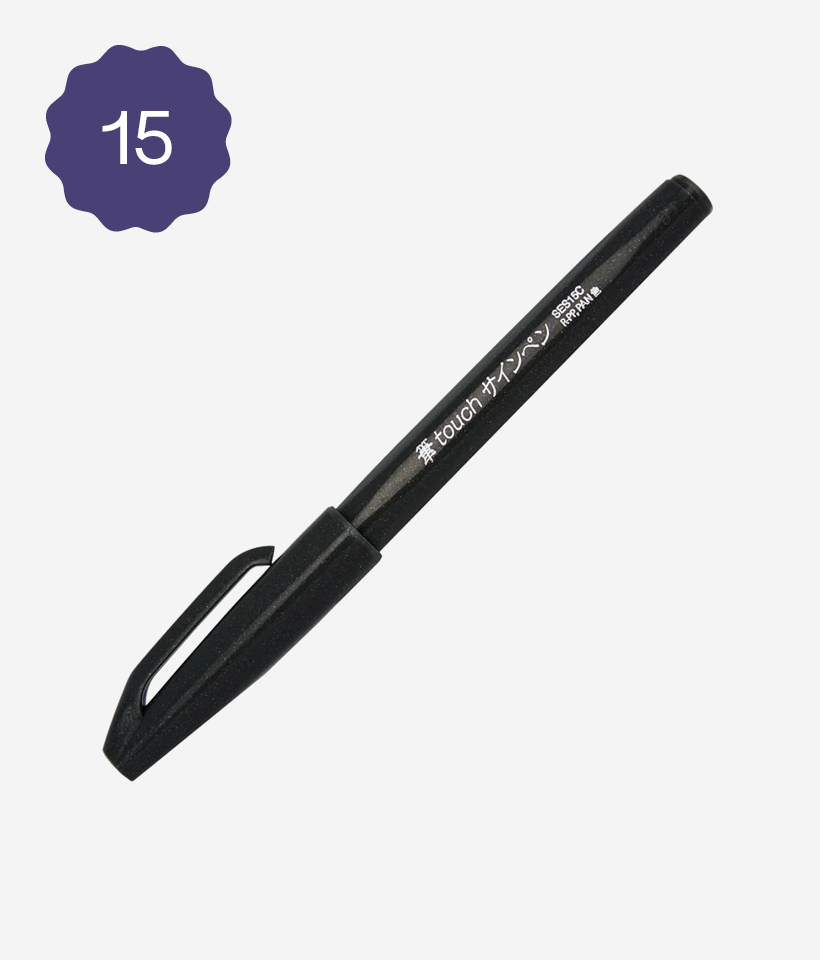 Pentel Fude Touch Sign Pen
This brush pen is difficult not to like. Thanks to the harder tip it is easy to handle and hence a favorite among many. By adapting the pressure against the paper when you draw or write you can vary the thickness of a line. Fude Touch Sign Pen can be used for lettering or for illustrating, and it is also popular among cartoonists. If you have been eager to test out lettering this is the perfect beginner's pen. Just put the tip against paper and begin!

Buy now →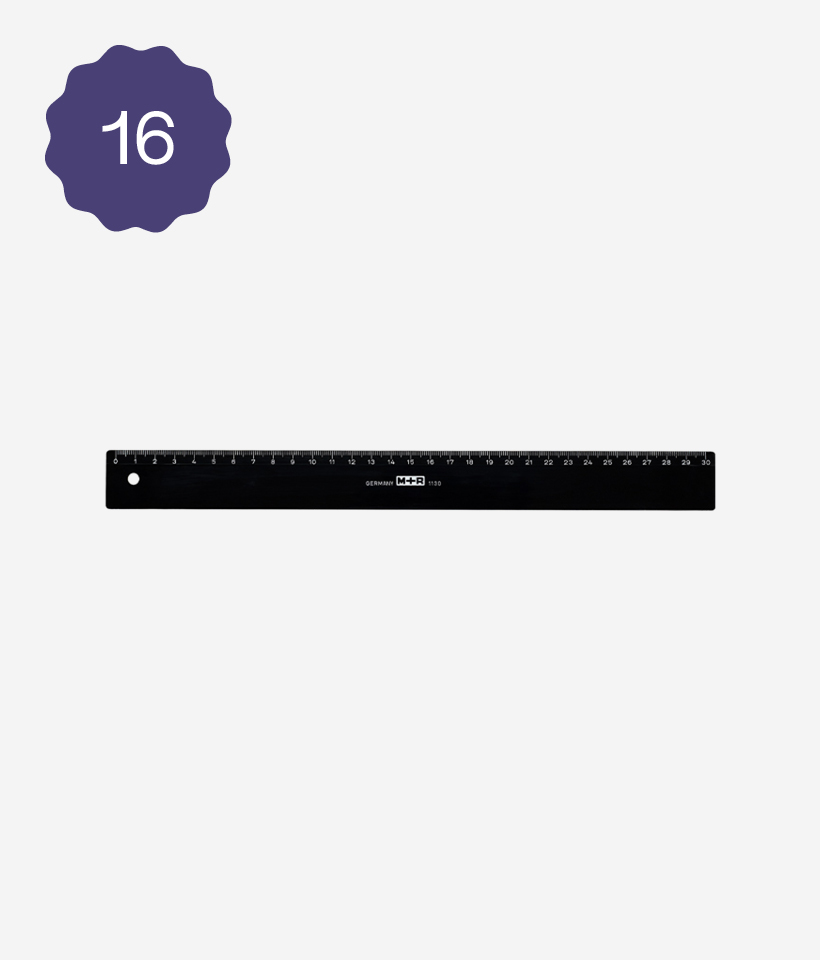 M+R Ruler
This is a must for everyone who draws and also a useful tool, therefore we have included a ruler in this year's calendar. You can use it for work, in school, or whenever you need to measure something. You can also use it as a tool when you need to tear apart a paper and make a large sheet smaller. With the ruler you can also sketch lines in order to make your drawings more symmetrical, and create squares, shapes and lines.

Buy now →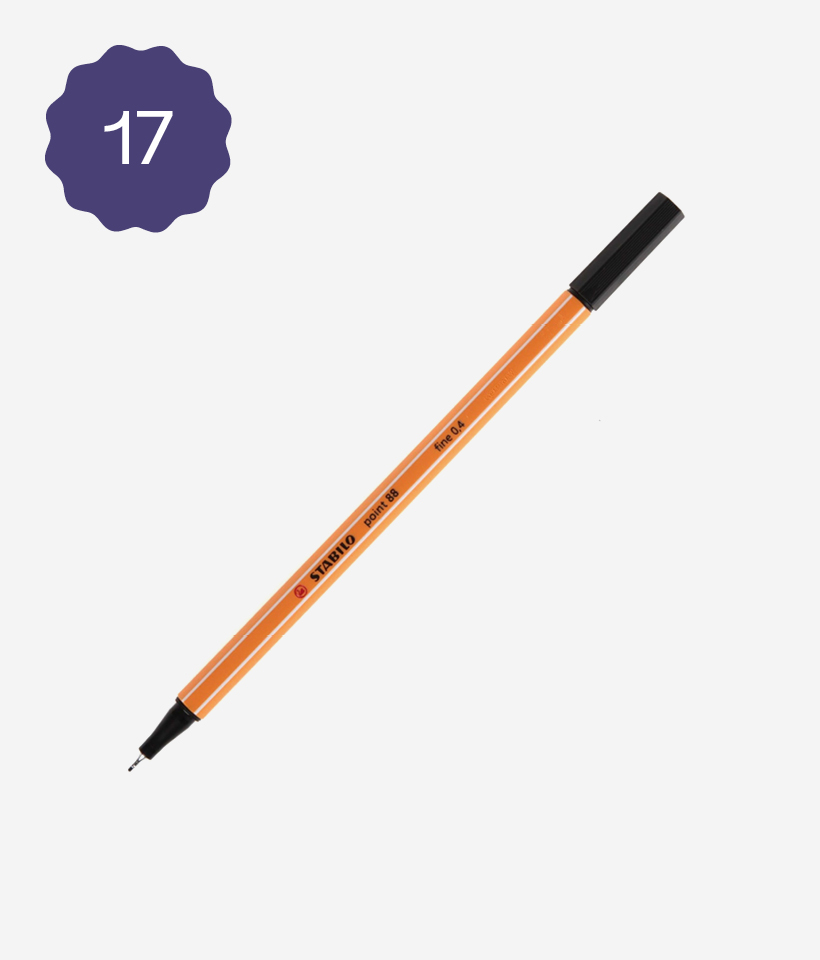 Stabilo Point 88
Behind today's door is one of our bestsellers: Point 88 from Stabilo. This fineliner is great for writing, drawing and illustrating. Extra popular among Bullet journaling enthusiasts. The tip is a bit longer than usual which makes it easier to use with rulers and templates of different kinds. It is also hexagonal which makes the grip a bit more comfortable, and thanks to the pen's length it also contains extra ink.

Buy now →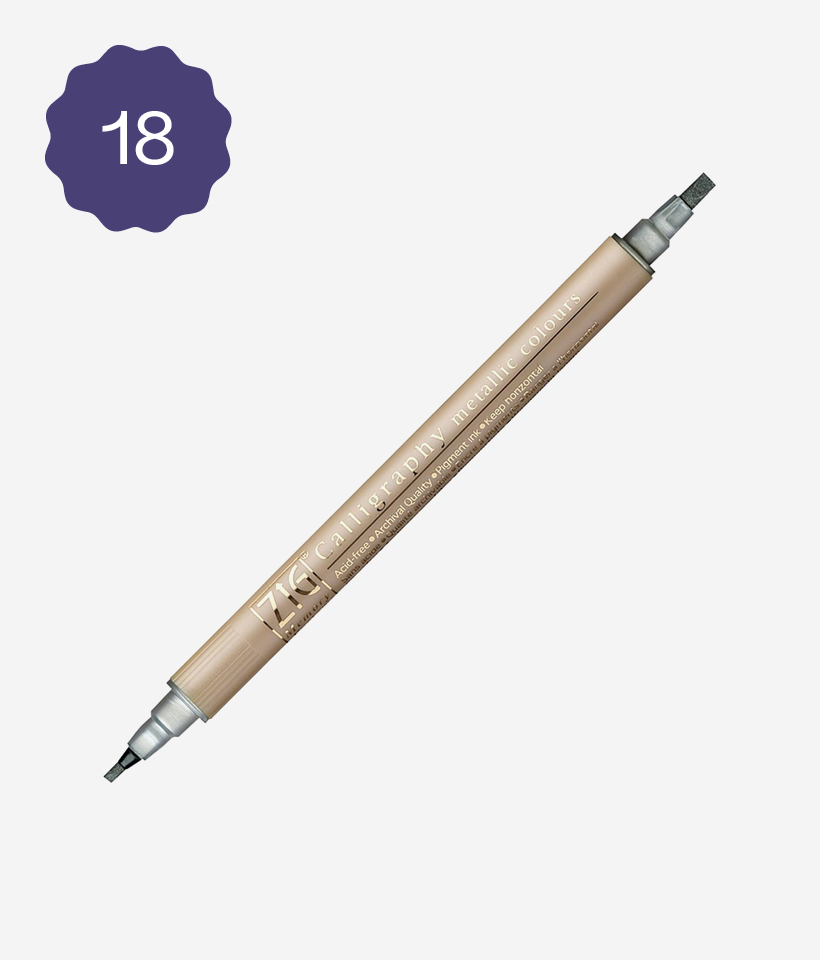 ZIG Kuretake Metallic Pen
In today's door, with only one week left until Christmas Eve, you will find a calligraphy pen with metallic effect. This pen from ZIG Kuretake is double-ended, and has one smaller and one larger nib. The ink inside the pen contains real metallic particles, which means that the result will become light resistant, and also really eye-catching. What you paint or write will sparkle! You can also use it on both lighter and black paper, it will be visible on any colour.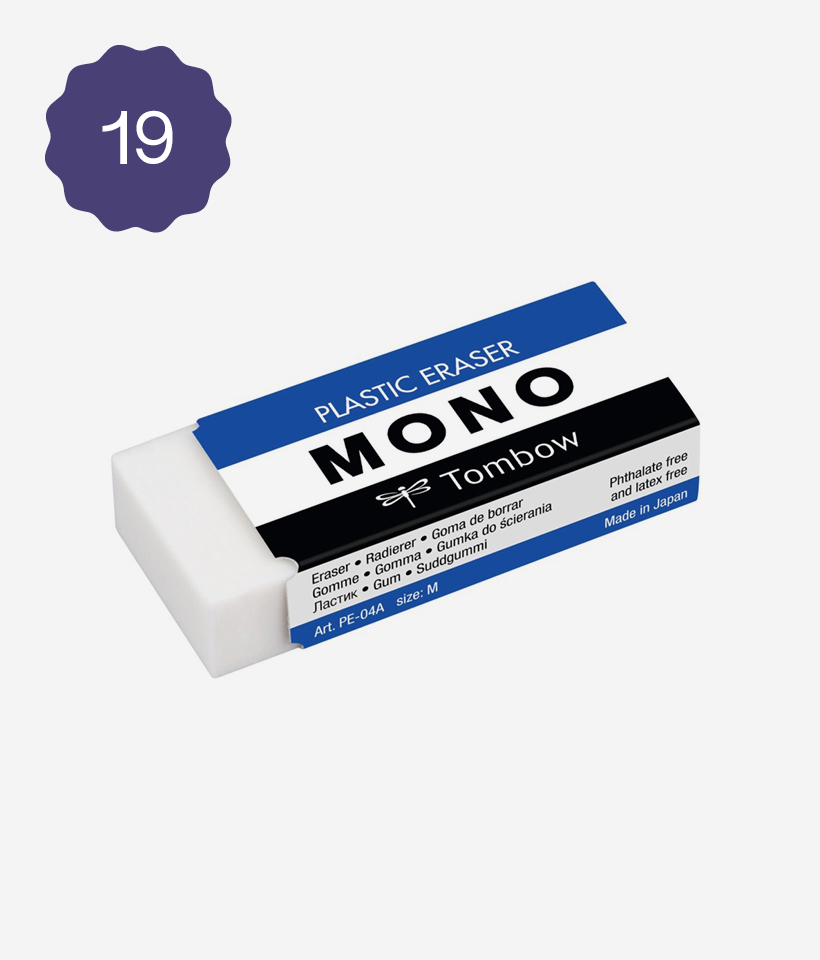 Tombow Mono XS
This eraser from Tombow is one of the best we got, and a favorite among many creative souls. It erases softly and effectively without damaging the paper. In addition to that it is also phthalates and latex free. An eraser you can use for mistakes, but also for creating highlights or white areas in a pencil drawing. Mono Plastic is appropriate for using with pencils and graphite pens.

Buy now →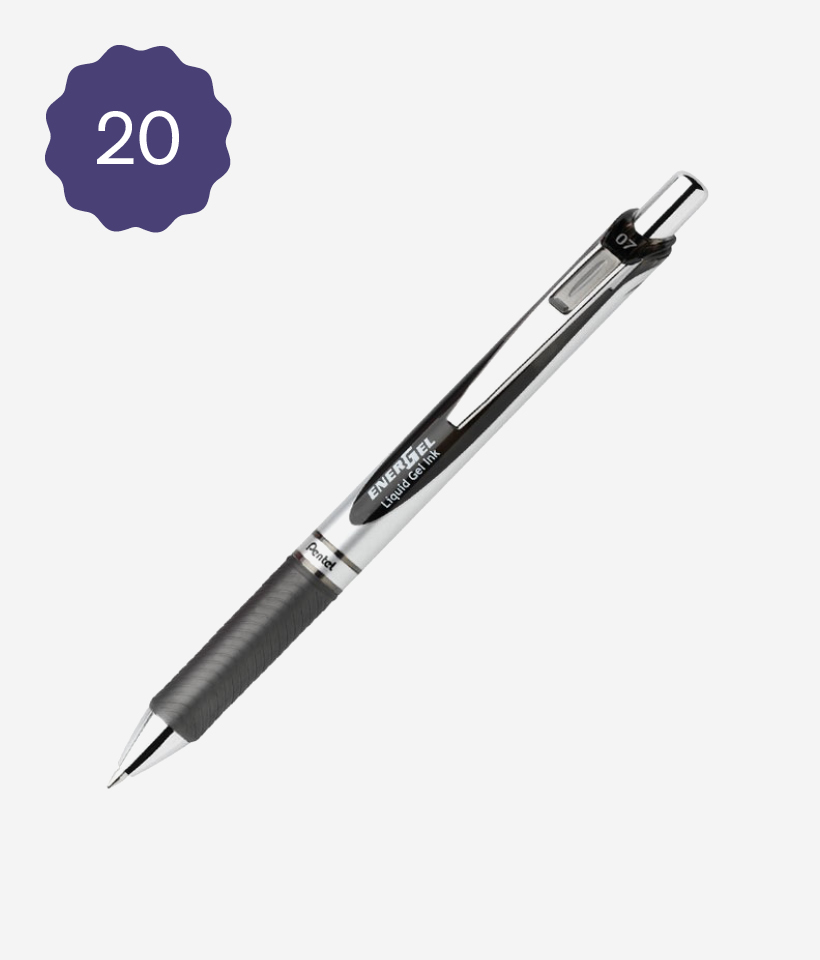 Pentel Energel Deluxe RTX
Behind number 20 there is a pen that is very comfortable to write with. Thanks to the ergonomic grip and the nib that writes smoothly, EnerGel Deluxe is a must in your pen case. Perfect for school or work, or when you need to write for a longer time without getting tired – in other words the perfect everyday pen. The nib is 0,7 mm and the refill is exchangeable once the ink runs out.

Buy now →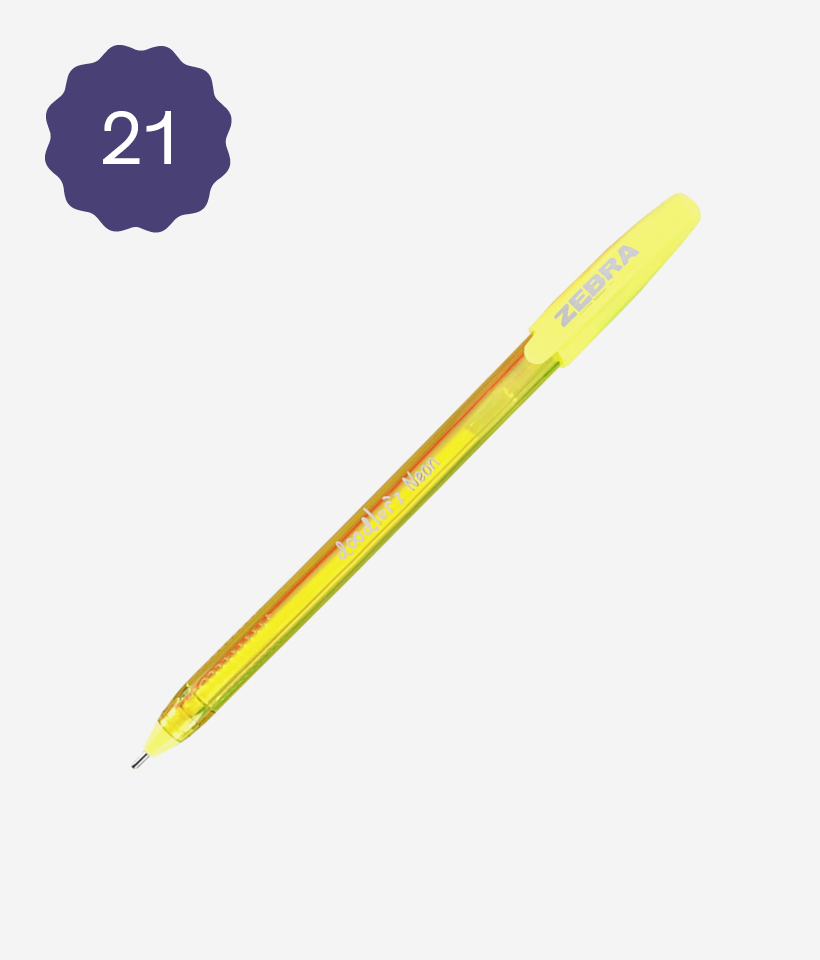 Zebra Doodlerz Neon
Pennan du håller i handen idag är släkt med pennan från lucka nummer 3, men denna gång är det neonbläck som ryms inuti. Detta är den ultimata pennan om du vill få det du ritar att synas lite extra. Även den här pennans bläck syns bra på mörka underlag. Utforska gärna hur den ser ut på olika papper och tillsammans med andra färger, så att du kan hitta ditt favoritsätt att använda den på. Klottra, skriv, rita, skissa eller vad du än har lust till!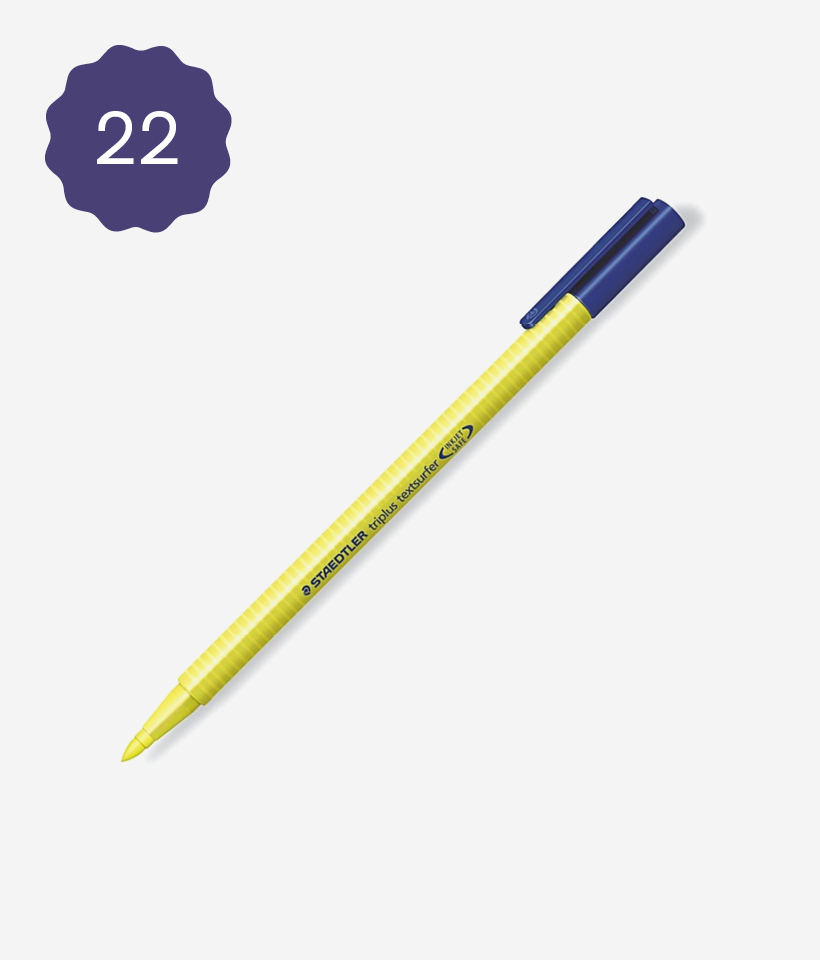 Staedtler Triplus Textsurfer
Only two days until Christmas Eve! Today we have put Triplus Textsurfer in your calendar. This is a highlighter that you can use both for fine details but also broader marking, since the nib size can vary between 1-4 mm depending on how you angle the pen. The classic neon colour will make your notes stand out. The ink is water-based which means that you can use it in books and notebooks without worrying that it will bleed through the paper.

Buy now →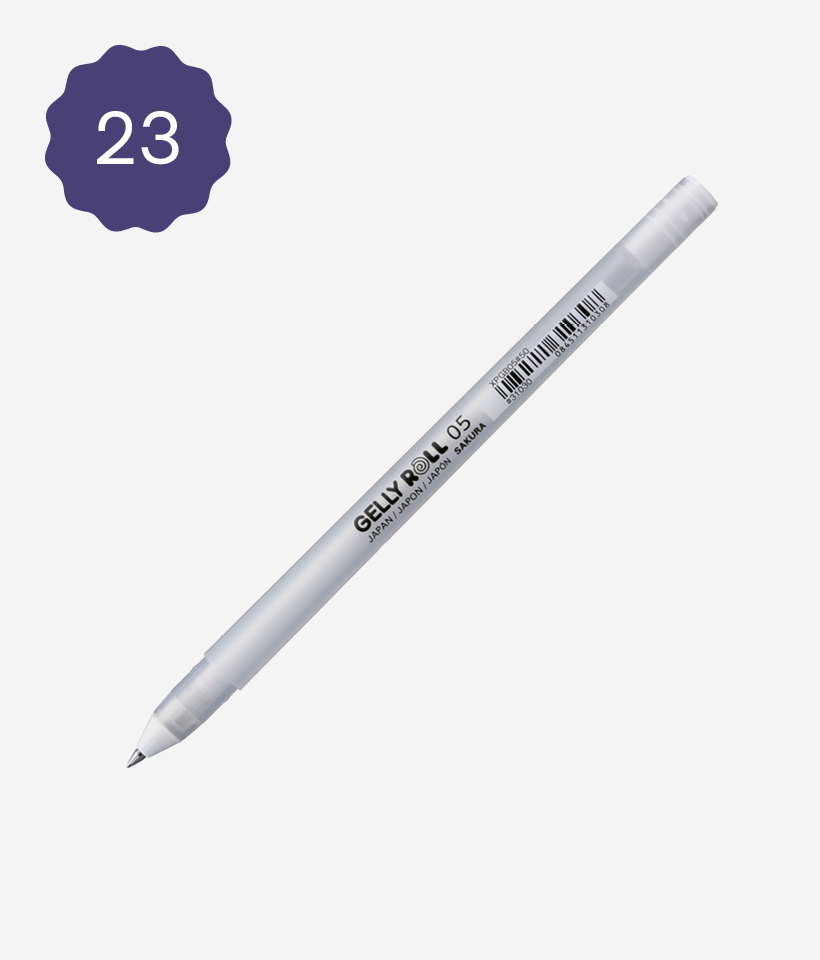 Sakura Gelly Roll White
We are getting close to Christmas morning and door number 23 conceals this white gel pen from Sakura, a bestseller here at Pen Store. It can be used on darker surfaces, and thanks to the gel ink that it holds, the result will be clear and visible. Very popular for making highlights in drawings and illustrations, or when you have painted with watercolours, markers and coloured pencils. It is also really usable if you want to write in a notebook or photo album with black paper, because it is light resistant and will not fade.

Buy now →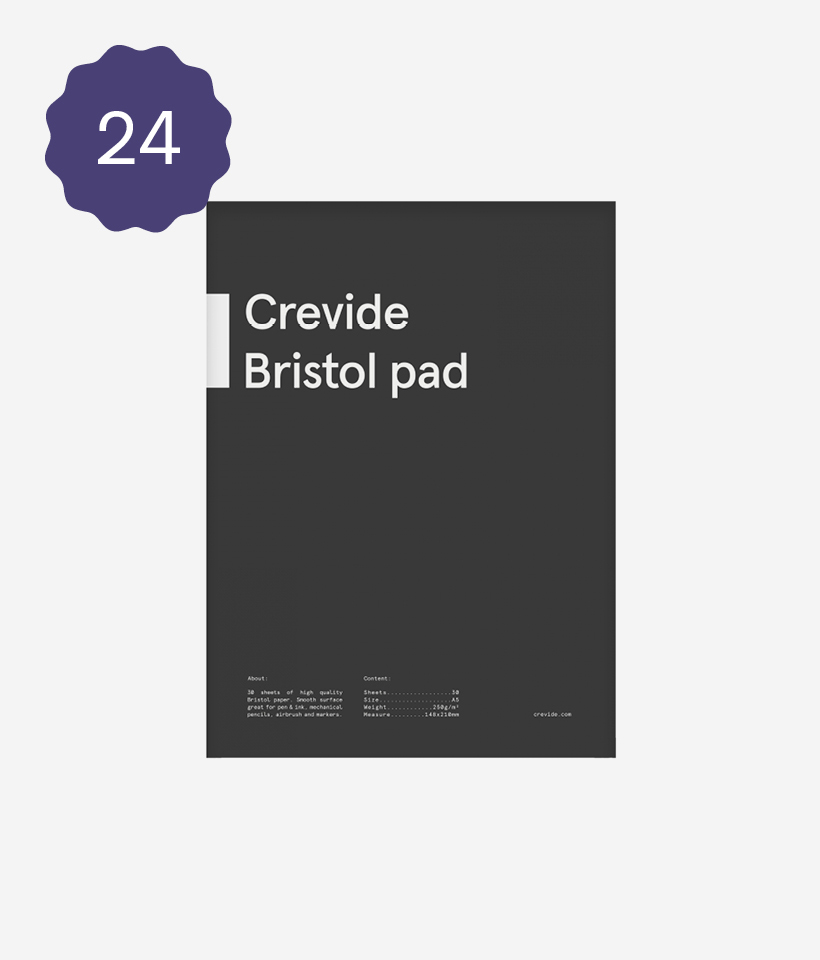 Crevide Bristol Pad
Finally it is time to open the 24th and last door. This time it is a bristol pad that is concealed behind the door of the day. The bristol paper from Crevide is a robust and smooth paper, suitable for many different techniques such as ink, markers, grafit, coloured pencils and more. Many comic creators prefer to use bristol paper due to its versatility and durability. We wish you a creative Christmas and a creative new year!

Buy Now →